Quite a few bloggers I follow do regular posts with items they are lusting after and inspired in particular by Jen at
Ramblings of a Jaffa Cat
I thought I would have a go. Here is my list to send to Father Christmas, do you think he accepts Pintrest boards or does he still prefer letters to be sent up the chimney?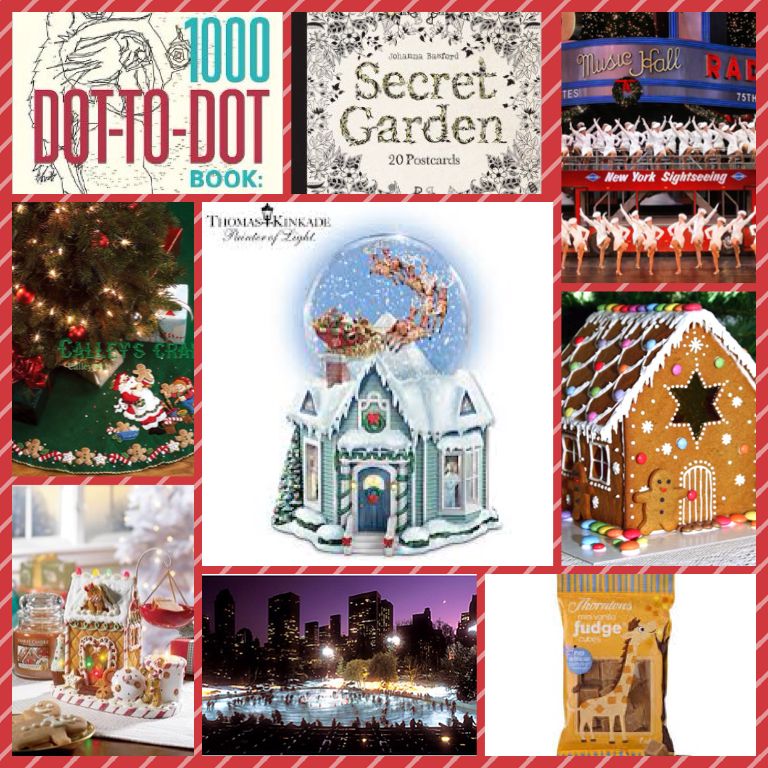 Secret Garden Postcards to colour by Johanna Basford. I have the matching colouring book and it's BEAUTIFUL, I would highly recommend it to anyone, it's suitable for older children and adults.
I've posted before about how special the poem 'Twas the night before Christmas' is to our family and every year I search for something (non tacky) that reads it but without luck normally. I found the perfect thing last year and wanted to buy it for Mum but it's only available in America and shipping cost more then the item itself! However someone Dad works with offered to bring it over, I have a sneaky suspicion it's going to be my 30th birthday gift, always to be treasured :)
I love love love all things gingerbread, from cute gingerbread men hanging on the tree to the ones you eat. I stumbled on the Yankee gingerbread range last year and treated myself to a cute t light holder with 3 tea cups and 2 gingerbread men. There wasn't a single one in their range I didn't lust over though!
As I said I love gingerbread, not quite as much as
this
lady although I'm a little jealous she got to live in a real house decorated as a gingerbread house but I do love it. I would either like a pretty gingerbread house or a kit with the decorations to make one. I did try once but the kit I had was broken, I couldn't stick it back together in bed (at the time I couldn't sit up) and it didn't have decorations like I thought it did so a bit of a disaster!
Thorntons vanilla fudge, yum and a chocolate orange in my stocking.
I came across an adult dot to dot book which I thought was a great idea and would be fun, by adult I mean ones aimed at grown ups rather than the rude and crude ones you can also get!
Also I love the whole Bucilla felt Christmas kit range, my main object of desire is the cute tree skirt (also with tiny gingerbread men, sense a theme anyone?). Actually I lie, not the whole range. 99% of the range is beautiful and tasteful and then thrown in at random is a kit to make a felt decoration for the toilet seat and tank, I'm not joking,
LOOK
.
Lastly I would like to go to New York in December, ice skate in Central Park, make a snow angel, see the displays in the shop windows and go to the Radio City Christmas Spectacular (which is on Netflix and AMAZING, if you haven't seen it check out this little trailer
here
). Oh and eat a slice of pizza so big it requires 2 hands!
I hope this gives you some ideas if your stuck trying to find a gift for your loved ones.