Saturday, December 19, 2015
Tuesday, December 15, 2015
This was written by someone I know who is a doctor. I run a charity for seriously ill children and can grant most wishes for young cute kids with cancer and provide 10 different holidays but it's much harder for other conditions!
Last year I worked in a children's hospital at Christmas time, and there were so many presents donated, mostly from corporate donors. The entire large meeting room was taken over with gifts to sort. There were hundreds too many presents, so some were leftover for birthdays and other occasions. We still had boxes full of Lego packs in June.
This Christmas I'm working in child and adolescent mental health, still in a hospital ward. We have had no presents donated and I don't imagine we're going to. Our patients will have one present each, chosen by the therapy team, paid for out of the ward's budget - scrimped and saved from the budget that is meant to cover food, activities, and other expenses.
If your company, or RAG society, or someone you know is thinking of donating gifts to the poorly children in hospital this Christmas, ask them to donate them to the poorly children in the mental health hospitals instead. They're not as cute and photogenic and good for corporate image, but they're less likely than a sick kid in a medical hospital to have loving family showering them with gifts. Any gifts to child and adolescent mental health services (CAMHS) would be appreciated, both by the young people, and by the staff trying to stretch the budgets to give the patients a nice time.
It would be lovely if the world could start to address the stigma of mental health, and the disparity of only caring about children with physical problems rather than also those with mental problems.
Good generic presents include things for an older child or teenager: arts and crafts things, colouring books, cookery things (my patients love cooking and baking!), remote control cars and helicopters, nail varnish, age-appropriate DVDs, nice smellies. Nothing sharp or that could easily break.
Corporate or larger gifts for a CAMHS ward would include games consoles, sports equipment, cooking equipment (smoothie maker?!), a TV or radio - but best to consult with the ward you're donating to.
Cards would also go down well, even if it just says eg "to young people and staff at [hospital], seasons greetings"
Sent from my iPhone
Posted by

Vikki
at 6:36 AM
No comments:

I've been planning lots of blog entries but never seem to get around to writing them. I wanted to share some of the Christmas gifts I've made this year and also some gift ideas. I've been busy crafting but I've only been doing small projects which can be done in bed, hoping to start baking next week though!
First up we have this decoration for my friend Cat. I've blogged in the past about the cream decorations I had purchased from Dot Com Giftshop but wasn't too keen on when I saw them in real life. This year I found a nail varnish in my friends favourite colour and set about painting with it hoping for a result like the gold ones last year. To say it didn't go well would be an understatement, it looked mouldy! We decided that maybe Mouldy Chic is the new Shabby Chic but thankfully after several more coats it no longer looked mouldy although it wasn't the colour I had hoped for.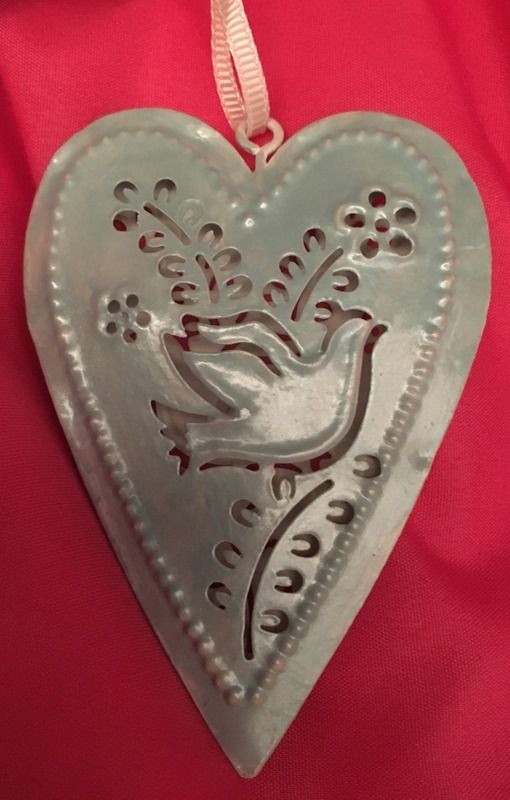 Next up is a sugar free alternative to a sweet cone or hot chocolate cone. My friend is dairy, gluten and gelatine free so needs a healthy alternative to a sweet cone. I got some red skinned peanuts and cashew nuts as she likes both. I first planned to make a Santa head by filling the majority cone with red nuts and then a circular shape with the cashews. My plan was to turn it upside down, add a white pom-pom to the top of the 'hat' and add wiggly eyes. I changed my mind and decided to go for a candy cane style stripe with the 2 nuts.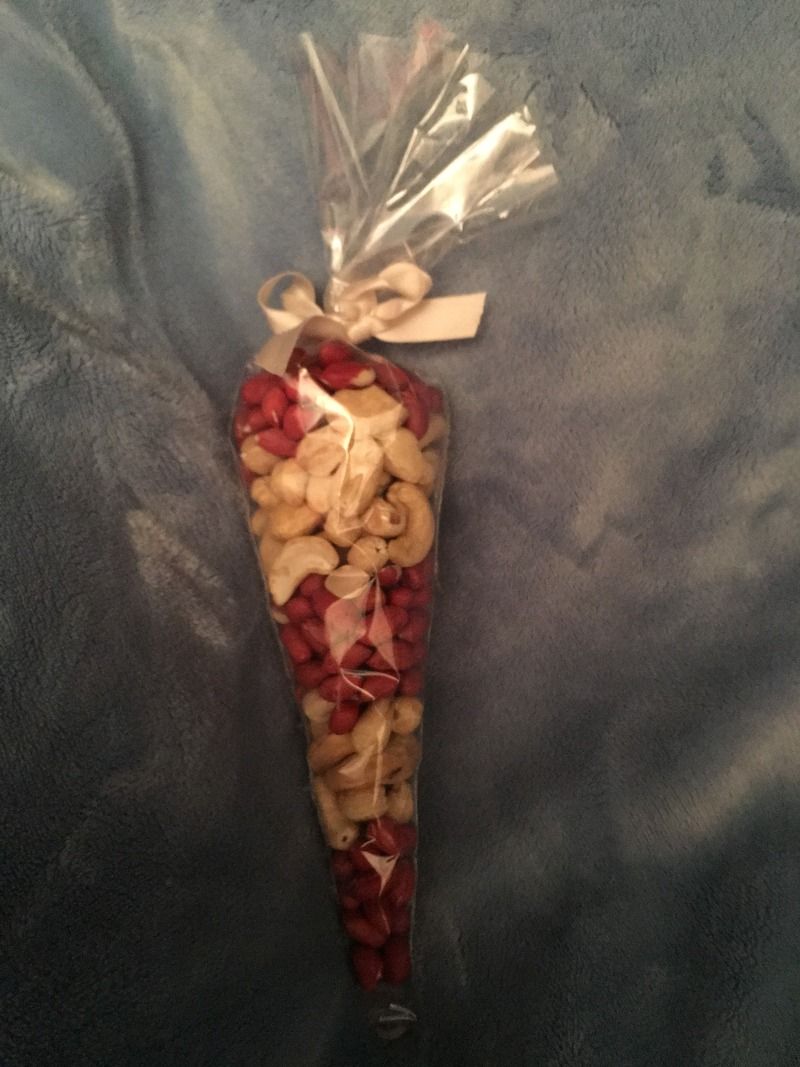 Next up is a gift I got for most of my friends. Each year I get ornaments made from Artscow, never buy straight from their site as they do mega discount codes if your patient enough to wait. Often I go for photographs relating to the person or quotes, this year it's Harry Potter quotes. Harry Potter is full of fantastic quotes but 2 of my favourites are 'It is not our abilities that define us, it is our choices' and 'happiness can always be found in the darkest times, if someone only remembers to turn on a light'. I selected the background, colour and font and got them delivered to me. They arrive on red ribbon which I think looks cheap and they look much better after switching to a coordinating coloured ribbon.
Before and after ribbon change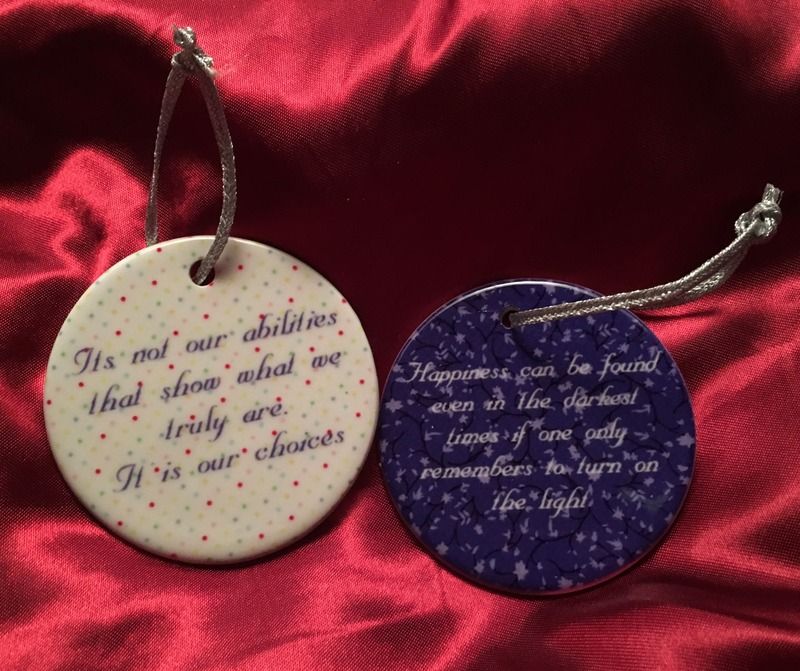 As little stocking fillers I had some personalised glass cloths printed. I used different pictures for different people and added text to some of them. These are for my family and cost me a grand total of 63p each including shipping!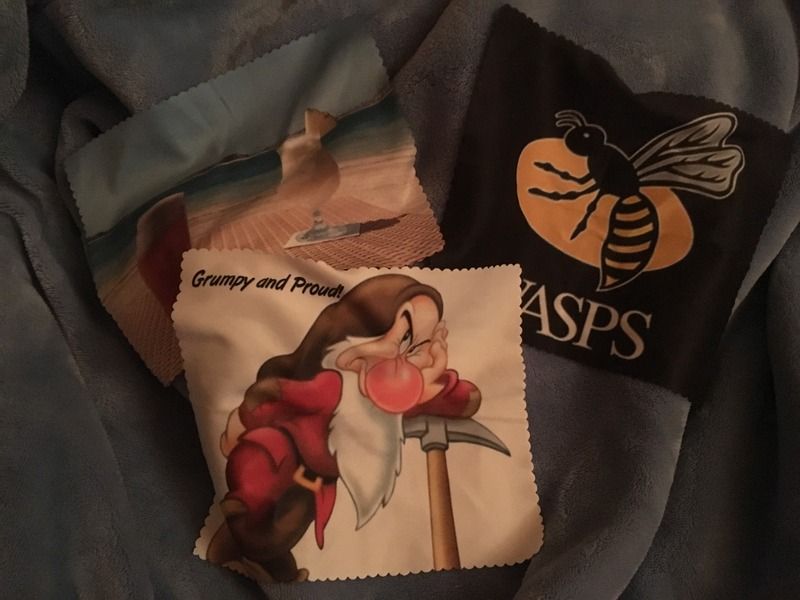 I've made snowmen and snowflake Oreo pops for people as a 'Happy 1st December' gift. I wrapped them in cellophane and put a Christmas sticker on the back to neaten things.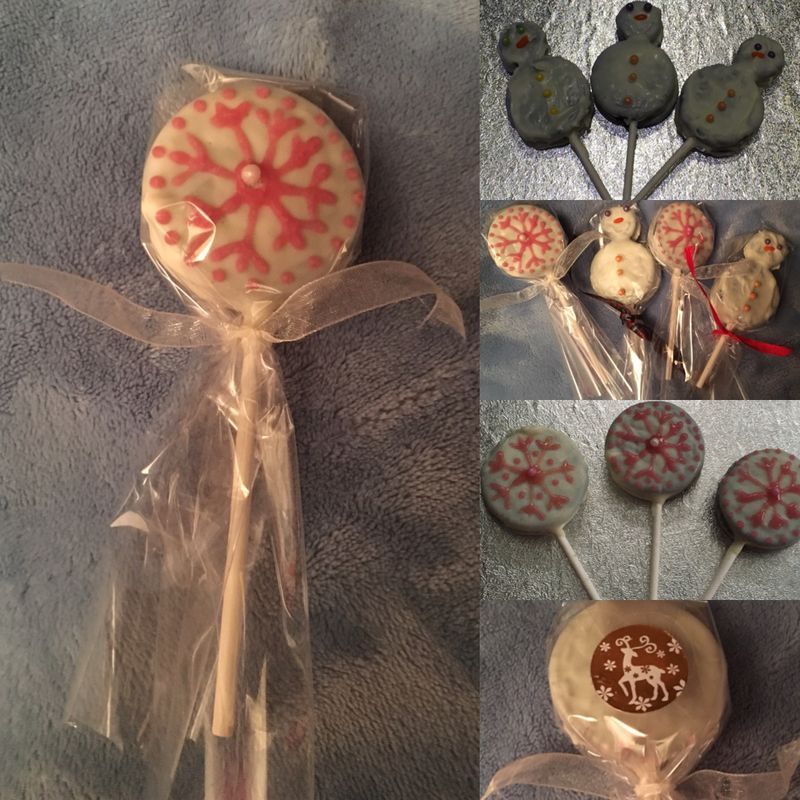 I've been working on this Design Works cushion for ages but it's so difficult to sew the buttons on as the material is thick and the needle is thick and blunt! I don't think I'm going to get it finished in time.
Not so much handmade but I've put together a selection of After Eight Mints for my Grandpa. He doesn't like much these days but these are the one thing he does still like. They now do straws and segments so I got those and also some normal ones for us to play with. Last year we did the challenge when you tilt your head back, place the mint on your forehead and use your muscles to wiggle it down to your mouth. HINT if you want to cheat make sure you warm the other persons one slightly! I discovered this as I was hot and while everyone else managed to do there's mine was still on my forehead (not helped but us all having uncontrolled hysterics!). I even leant forwards and it remained stuck to my head!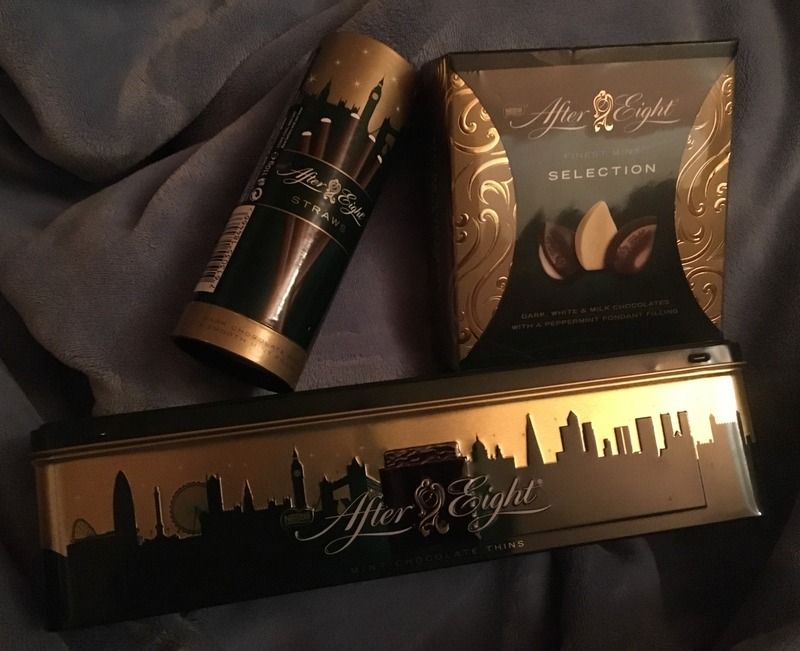 Earlier in the year I made this for some newly weds. It's for their first Christmas tree as a married couple.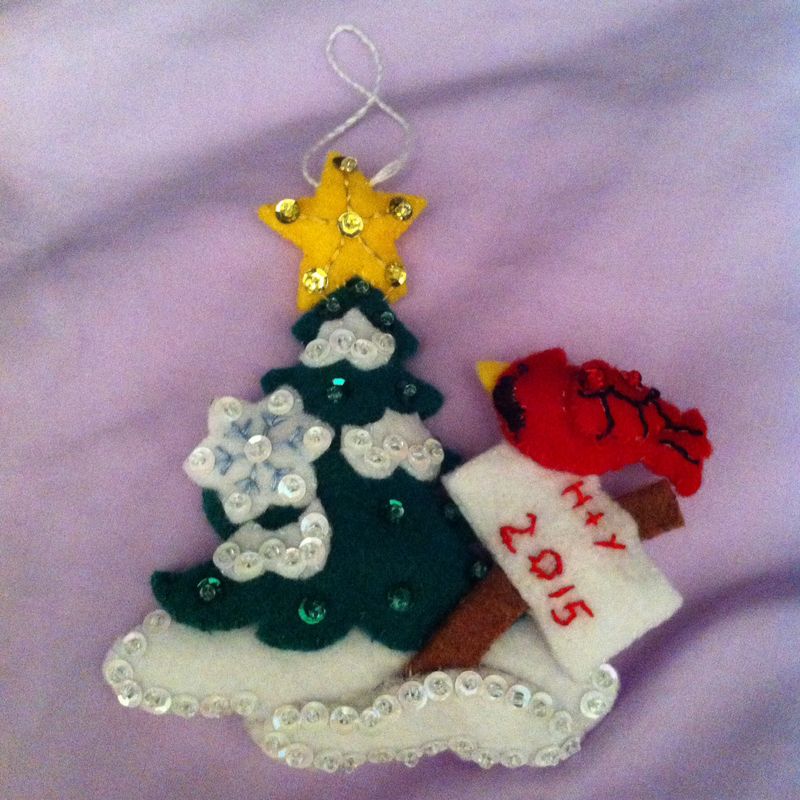 Last but not least a close up video of the stockings I've been working on for a few years (yet to be fully finished!).
Posted by

Vikki
at 6:32 AM
No comments:

Monday, December 14, 2015
I've been busy making Oreo snowmen and Oreo snowflake pops.
I've seen lots of Oreo snowmen heads but they never have a body. I did a search and still couldn't find any although I did find these adorable snowmen heads.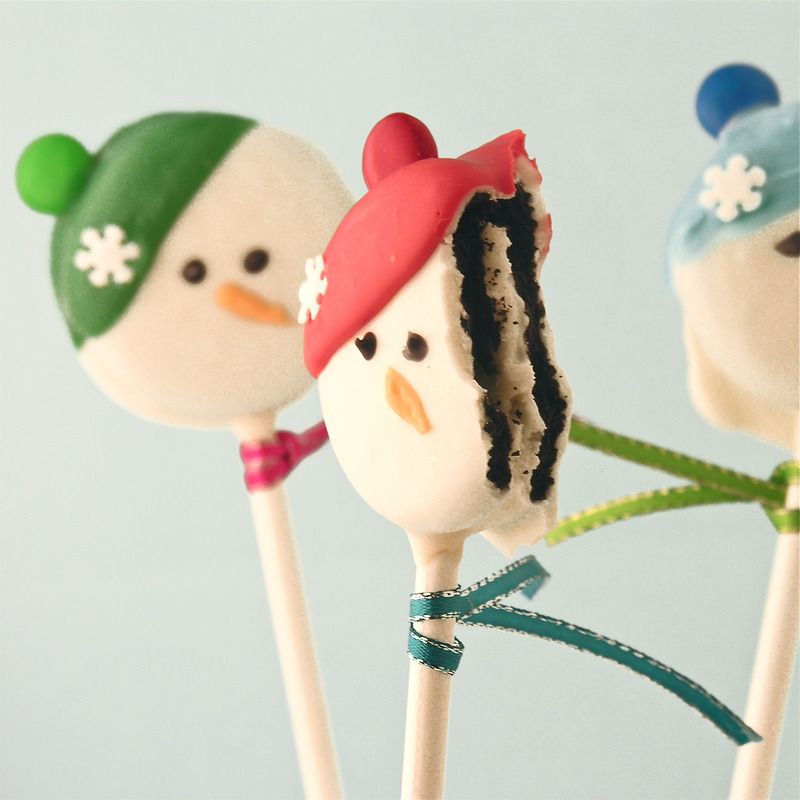 I decided to have a go at making some using normal Oreo's and mini ones (from snack packs) but quickly learnt the key to good looking Oreo pops is doubled stuffed ones.
To make these snowmen you need,
Double stuff Oreo's
Snack packs of Oreo's
Lollipop or cake pop sticks
Candy melts
Things to decorate with.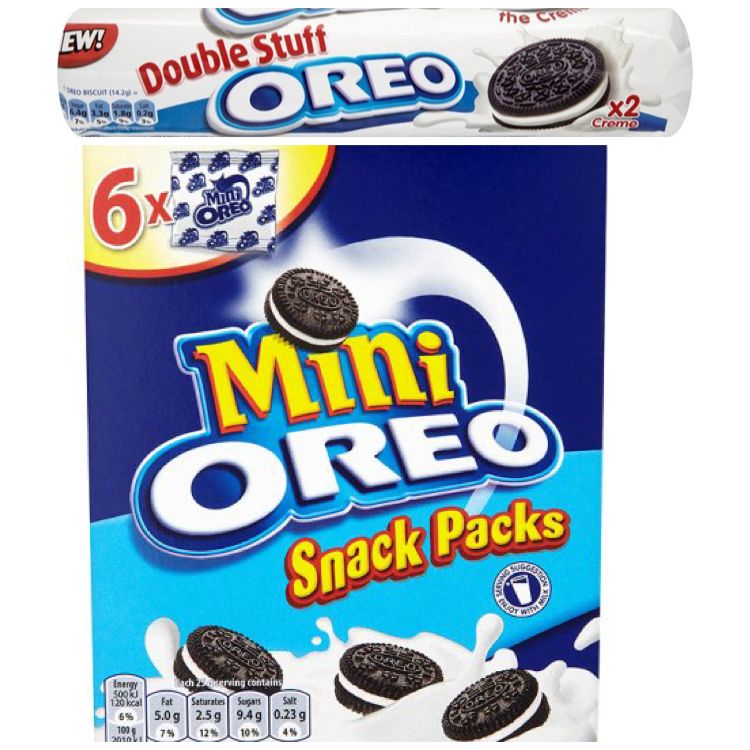 Start by gently separating the 2 halves of the both the double stuff and mini Oreo's, be prepared for plenty of breakages, you can either 'glue' them back in place or enjoy eating them (would be awful to let them go to waste...).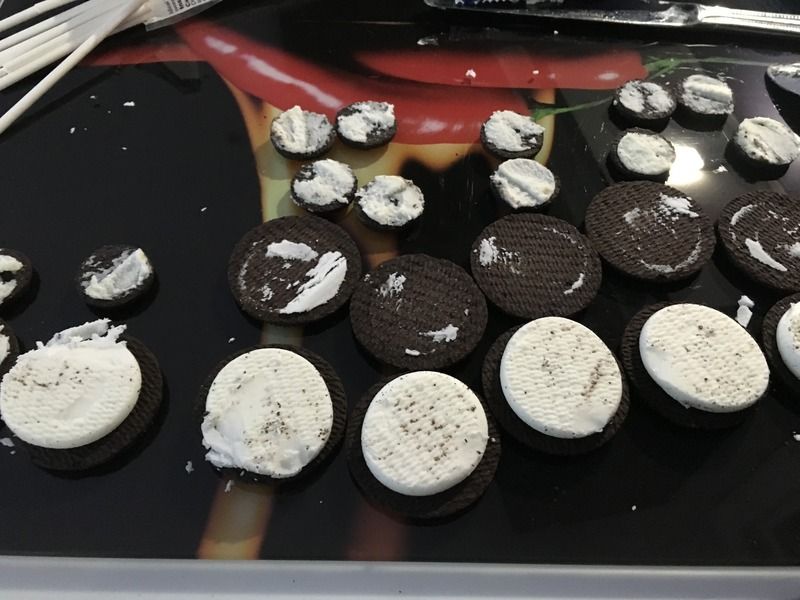 Take the mini Oreos and using the candy melts 'glue' the top of the stick into them. You don't want to have any of the stick poking out of the top. 'Glue' the other half on.
Make a dent in the 'stuffing' of the larger Oreo, before 'gluing' the stick in and adding the other half on top. You want the big Oreo and mini Oreo to touch.
Put the Oreo's on sticks in the fridge for a few minutes to firm or have a cup of tea while enjoying the broken ones.
Dip the Oreo's on the stick in the candy melts, it helps if you add Trex/shortening to the candy as it will make a smoother coating. Stand them up to dry, I used a block of polystyrene but anything like that will work. When dry do a second coat then decorate.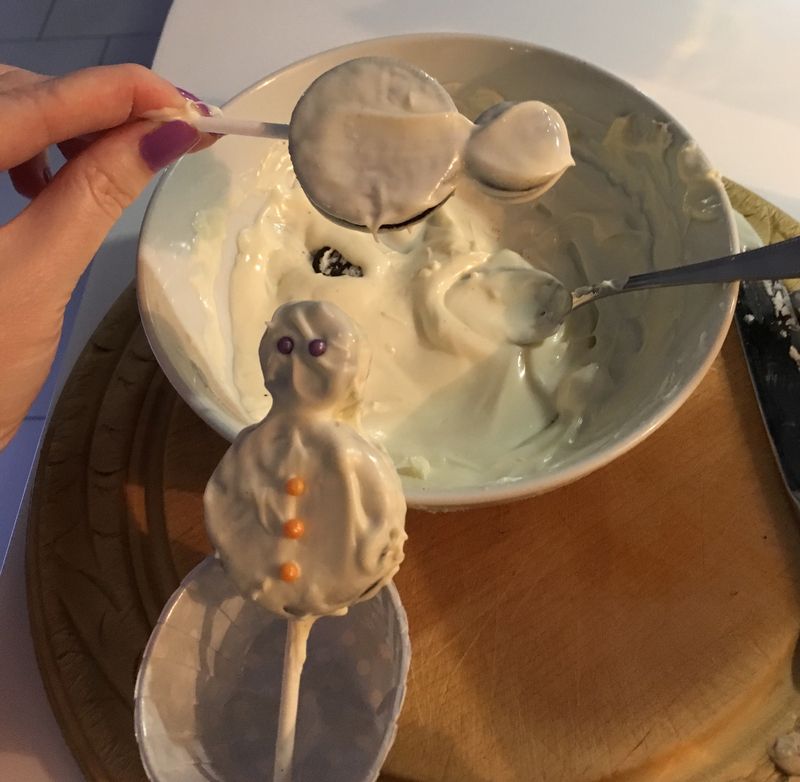 These were decorated with coloured pearls and little tubes of writing icing.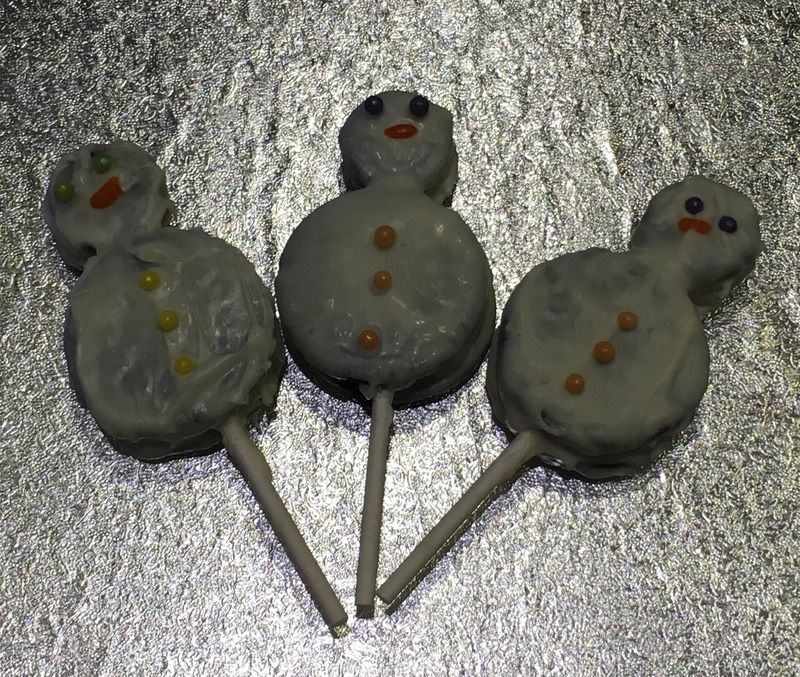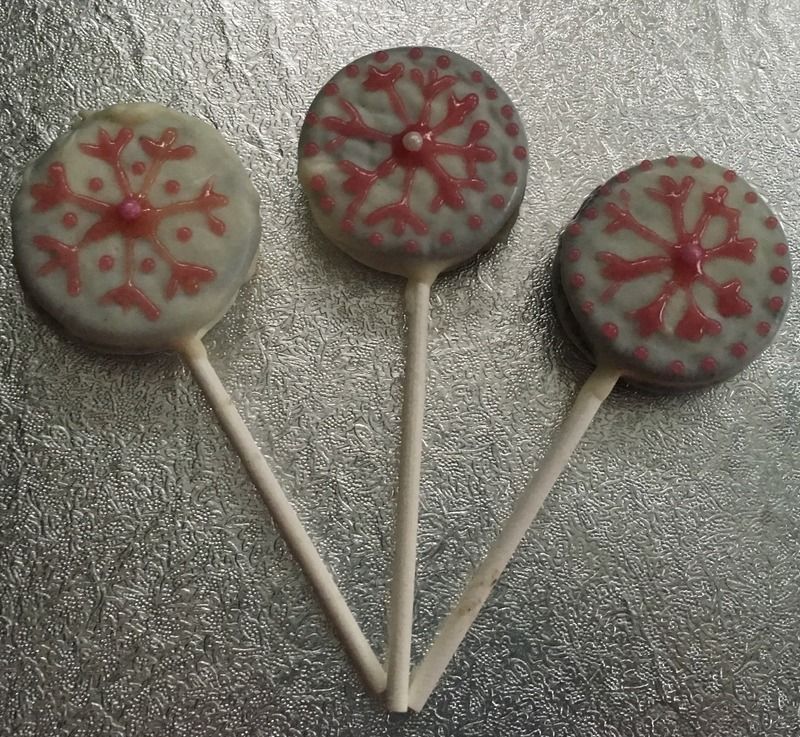 Wrap in cellophane or eat straight away!
Posted by

Vikki
at 11:24 PM
No comments: