Whoops, I did this as a draft and forgot to hit 'publish'!
Long time no blog! My health always takes a dip at this time of year after over doing it at Christmas.
I can now share some of the things I made but couldn't sooner.
Christmas 2013 was the first one since the amazing Alice Pyne passed away. I wanted to send something to her family and searched high and low for a nice and suitable snowglobe but couldn't find anything. It's hard to find a suitable Christmas gift for parents who have recently lost a child. In the end I decided to make a Christmas decoration (which could be used at Christmas or year round if they wanted). I chose a lovely photo of Alice which I know was taken on a very special day and as a bonus she was wearing purple boots (her favourite colour). I added her name in purple text then ordered it. It arrived with red ribbon which I replaced with purple. Her family put up her purple tree and it fitted on great.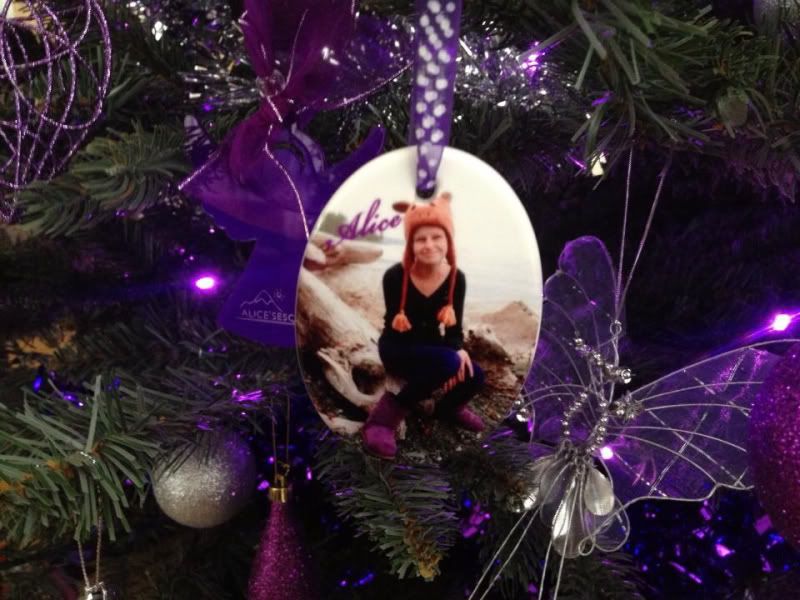 For my friend Kate I got various things including named pencils. I had her nickname (straw poker of all things!) printed on them but was disappointed when they turned up loose in a Jiffy bag. I arranged them into colour order and using tiny sticky fixers I lined them up on a piece of shiny purple card (we both love purple) and wrapped in cellophane. I liked to present gifts nicely and was pleased with how it came out. I stacked her other gifts (her birthday is close to Christmas) in matching stacking boxes and added a big ribbon around them. As it had to be shipped I used lots and lots of tape!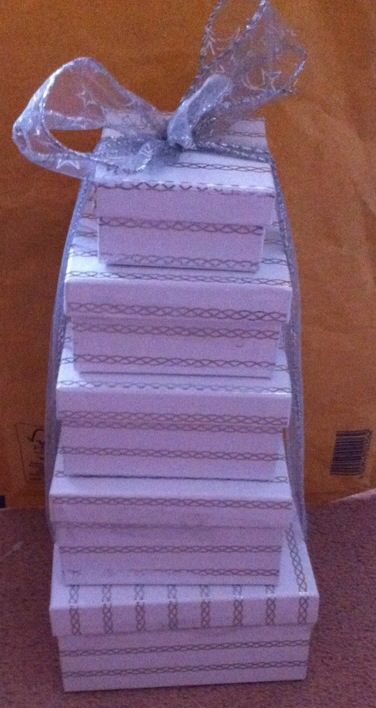 I wrapped Kate's other gifts in purple paper, added a beautiful purple ribbon I had saved from something and slotted in 'Juicy Lucy calling cards' about friendship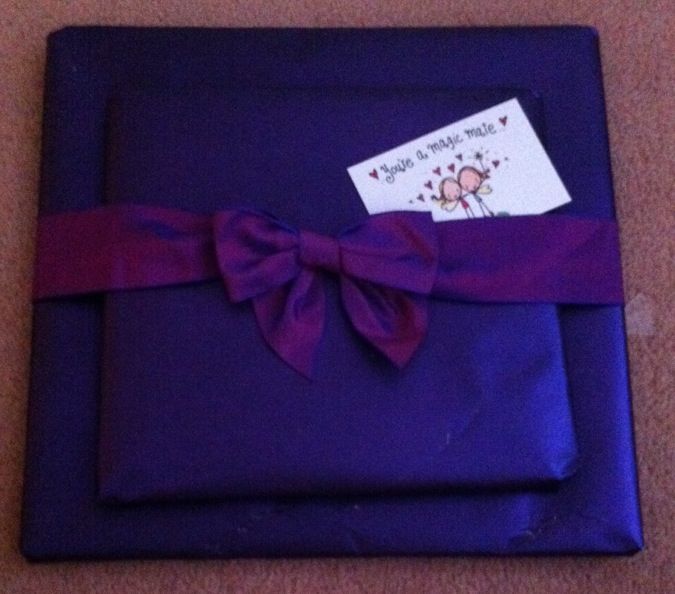 For my friend Emily I used the coloured tapes I had won earlier in the year (they were my fav crafting item of 2013) and decorated a white box with them, I then added her name in glitter letters (that I had also won). Both items were from Paper Celar range.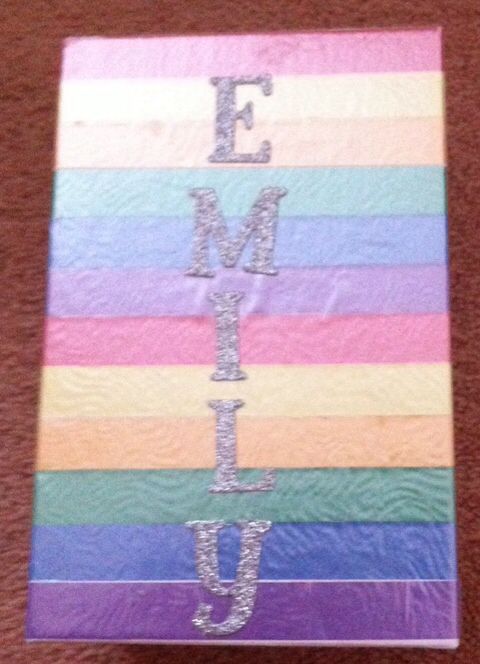 I also made some decorations for my very ill friends with this picture that says 'there is always hope'. I like the image anyway but it's extra apt as they all struggle with light sensitivity, bring a new meaning to light at the end of the tunnel.
I find guys hard to buy for, my friend Dan likes Whiskey and The Big Bang Theory among other things. From ebay I ordered a hip flask with 'Dan- one lab accident away from super villain' (a line from the show) and I really liked a tshirt I saw with Bazinga made up from elements on the periodic table. I didn't really want to get a tshirt though so in the end I found the image and had it printed onto a mug using Snapfish.
As a family gift I took a Christmas photo of my Dad and I pulling a cracker, added a snowy boarder using photobucket and had it printed as a jigsaw (under £5 on ebay and great quality). My Dad is blog shy though so I don't have a picture but it went down great. We did the puzzle as a family and they were guessing what picture it was for a while. I think I'm going to make it an annual gift with a different picture each year.
My sweet trees (fizzy belts and Haribo Stars) were wrapped in a small piece of cellophane and ribbon added.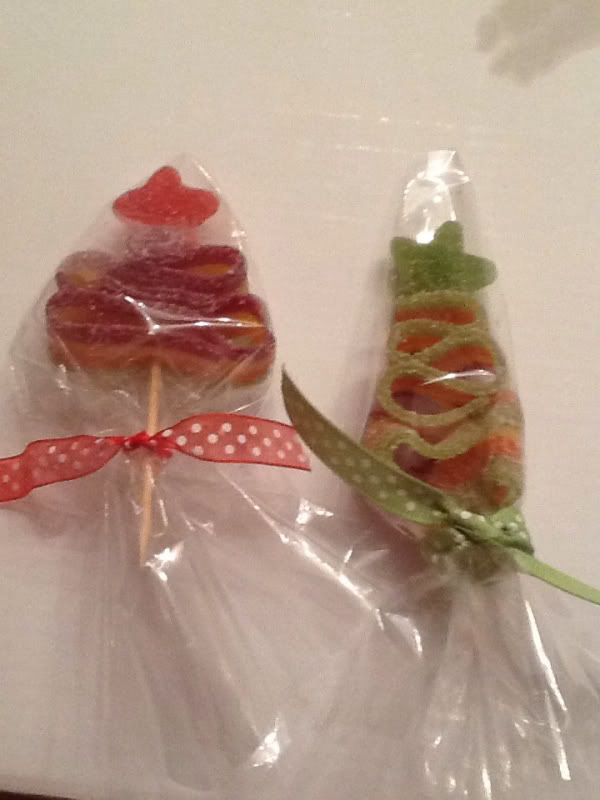 The magnetic pegs I made were pegged onto purple card, wrapped in cellophane and had a nice label added.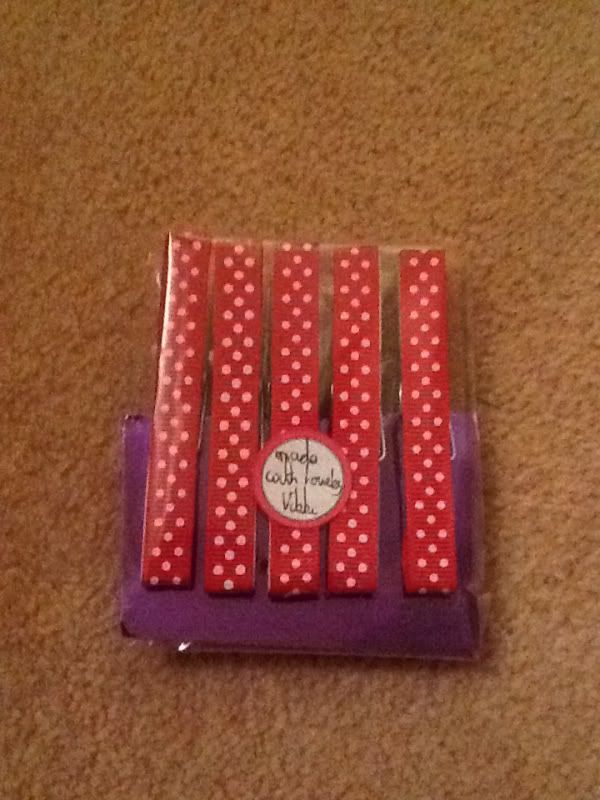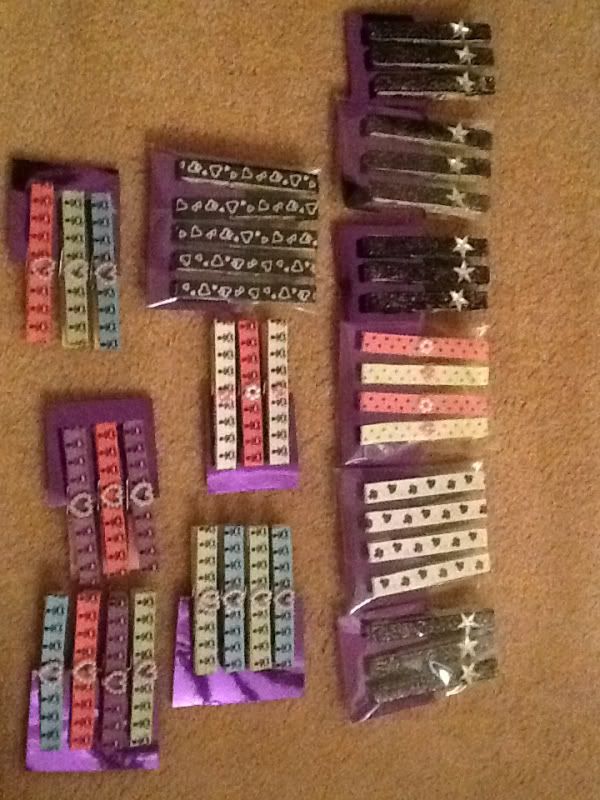 We have a fake tree in our living room all year and at Christmas we put bird decorations on but they tend to blend in and aren't noticeable. Mum wanted some white ones and I found these beautiful Gisela Graham ones. Although they are lovely as they are I glued a single diamanté where all the ribbons join, it worked brilliantly and they looked even better.
I will finish with the gift I'm most proud of. I managed to compete my Mums stocking. I had never sewn before and the Bucilla kit seemed very daunting but I finished. Miss Moneypenny on MSE and Debbie's YouTube videos were a huge help. Instead of a picture I made a very short video so you could see the details. You can see it
here
. I've now brought 4 more Bucilla kits.
That rounds up my crafty Christmas, I hope you like the items I made or maybe inspire you to get crafty.