Rare London are asking bloggers to share their
'Clothes I Simply Can't Live Without'
.
This challenge really got me thinking. Clothes are so much more than pieces of fabric, they can reflect your mood, your personality and most importantly your confidence.
I guess though my relationship with clothes is very different though as I so rarely wear them...no I'm not a naturalist!
Just before I turned 17 I became bedbound with severe M.E, a neurological condition and now aged 29 I am still writing this from my bed. One of the symptoms is severe pain and despite the steady dose of morphine in my system everything hurts and is made worse by anything that touches my skin, be that bedding, human touch or clothing. You would never know this if you looked in my wardrobes though, the only hint that might give it away is most things still have their price tag on.
I love clothes and also love a bargain so over the past 13 years I have brought lots of 'for when I'm better clothes', I also have a huge array of nighties to suit every occasion; December-Christmas designs
Easter/spring- light green with a cute duck on
Formal-when seeing professionals of having visitors
Summer-cheerful print
Funny- dog with 'dog tired' on (I was sad when I came across a dog design with the saying 'feeling ruff' on was out of stock)
Winter-snowman as I can't get out to the real snow.
Mostly I just wear these though, they are from M&S and as well as being extremely soft they are very stretchy which makes putting them on and taking them off easier (it was especially handy during the 3 months I spent paralysed in hospital).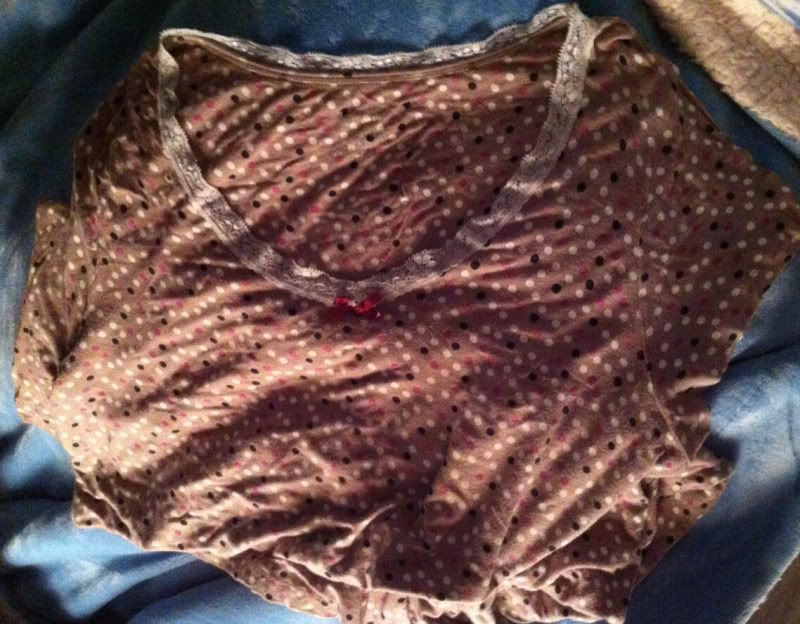 These nighties didn't spring to mind when I read the challenge though, my selection of dresses did. I LOVE dresses, so much so that at the top of my bucket list is 'to twirl in a flowing dress' and I've also said when I get better I will wear a dress every day for a year even if it means going to a supermarket in a ball gown!
This dress was a gift from my Mum. It's from Jane Norman and is plain white at the top with black ruffles on the rest, I love that the ruffles have a slight sparkle to them.
They say that every girl has a LBD but I have lots! This is one of my favourites, I really like chiffon type materials that lay over a silky lining, giving the dress a slight floaty look which moves beautifully. It's a flattering v neck with ribbon detailing a little way under the bust. I can't remember if I got it from ASOS or ebay.
The last is a grey jumper dress, it's one piece but looks like a grey and white stripy top under the dress.
I wore the grey dress with thick black tights on a very rare day out of bed and went to London. In 2009 I seemed to be getting better and I managed to leave the house (and not to just go to a hospital!) and wore the dress. The other 2 I've never worn.
You might ask why these 3 dresses are the items I simply can't live without. I guess it's less to do with the lovely fabric or detailing but what they represent. They represent hope. 2 dresses are promises of better times to come and the other is a reminder of good times in days gone by.
I often hang dresses in my room and enjoy looking at them, who says you need to wear clothes to enjoy them!
Nominating
Aldi to Harrods
Kaye
Di